Our Patchwork Carpets are the result of sophisticated craftsmanship. Customer demands have not only increased for our new Vintage Carpets but also for our beautifully composed Patchwork Carpets. Patchwork Carpets made by Carpetido.de consist of many pieces of carpet that have been harmonically sewn together and overdyed by highly skilled weavers. This especially facilitates the production of special sizes and runner carpets.
We invite you to browse through our collections and are always available for any questions you might have.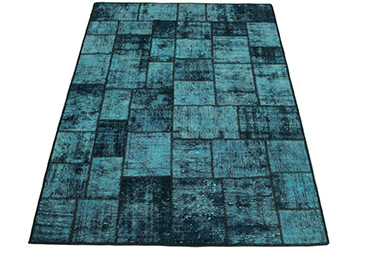 The modern Patchwork
The motivation behind the creation of our Patchwork Carpets was the desire to develop an innovative and absolutely individual Oriental Carpet. When manufacturing a Patchwork the possibilities are simply endless. Colorfully composed patches from various carpet segments or combinations of classic hand-knotted Persian Oriental Carpets as well as woven Kilims conjure exquisite and colorful new designs thus creating the perfect mixture between traditional carpets and contemporary modern design.
Manufacturing the Patchwork Carpet
The first stages in the production of our Patchwork Carpet are comparable to the production of our Vintage Carpet. Usually when a Vintage Carpet has completed its overdyeing process it will be cut into pieces and sewn back together by our professional weavers and designers who will recompose the various segments into completely new and exquisite designs. The trick is to produce and to reinvent an overall harmonic picture despite the different patterns and structures and to have the colors of the single fabric pieces blend in with the Carpet's overall color scheme. We have mastered this art and will introduce you to an unparalleled and unique collection of Patchworks. It goes without saying that our high quality standards also apply to our Patchwork selection. For our production we only use premium Persian and Kilim Carpets.
The Different Patchwork Rug Types
Made from handwoven fine Oriental Carpets we produce Patchwork Carpets in various sizes and colors. The patches will be sewn together both randomly and by a certain pattern. Virtually all sizes are possible.All Carpets are one of a kind.
Patchwork-Kilims
Particularly fine handwoven Kilim patches will be sewn together into highly exquisite and versatile reinvented Patchwork-Kilims combining tradition and history with contemporary elements. Please come and convince yourself of the creativity of our exceptionally skilled weavers.
Combining Oriental rugs and Kilims
Only the use of the specific Patchwork design techniques will allow us to combine extremely exquisite hand-knotted Oriental Carpets with fine handwoven Kilims. We have incorporated this technique and find our Patchwork-Kilims outstanding. These Patchworks are guaranteed unique for us as they will be for you and your home.
Below please find our wide selection of Patchwork Carpets.